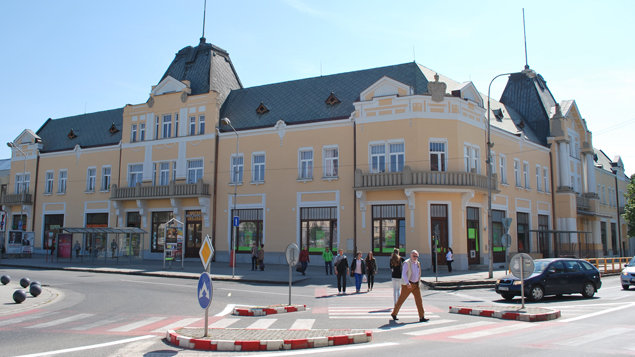 Dominant of the Square of Hero´s  is the Hotel Lev that was erected on the site of the Lev tavern on the corner of Československá armáda street and the main square. The original tavern had existed there since the half of the 19th century.
On 8 October 1879  early morning fire burst out in the Lev tavern which had begun in the stable. In 1907 the Municipal corporation made a decision to demolish the old, damaged and favourite tavern.
Project of a new Hotel Lev building was designed by architects Józef Vas and Nándor Morbitzer  from Budapest, the winners of a competition in 1907. The hotel was constructed in the years 1909 and 1910 in Art Nouveau style.
As it was a practice at similar Art Nouveau buildings, there was an entrance into the hotel reception room right on the corner. Magnificent social hall with an opulent stucco decoration was entered through the lobby. Coffee – house and shops with shop – windows were protected from sunshine by marquesas. Later the space under the marquesas was made into a summer garden  with tables and armchairs.
Meals of delicious tastes from the hotel restaurant, high quality Pilsner beer, prompt and helpful waiters, live music playing every evening, emphasis on cleanliness, comfortable lodging or own trasportation of guests – that all also made the Hotel Lev very famous in other towns.
On the ground floor of the hotel there was a tavern, a restaurant with a gemester room as well as rental commercial space with storerooms. On the first floor there was a facade structured by balconies, between the gables of the hotel´s cut corner front there is a stone relief of the town´s coat of arms up to the present day. The Municipal Big Hotel inscription was shining over the windows.
Reconstruction of the hotel took place in the year 2015.
 Address:  Čsl. armády  street No. 2,  Levice