Baroque Mansion in Kalinčiakovo
Originally Baroque mansion was built in the 18th century and in the year 1820 it was renovated in Classicistic style. It is one-floor and three – wings building with binding  colonnade. Vertically built one-block wings are linked with the central wing by the colonnade. The mansion was built by Nyáry family who possessed properties till 1945. Its last owner was Margita Bolfrasová, maiden name Nyáry. In 1924 Slovak public school was established in the part of the mansion. Nyáry family belonged amongst very importan Ugrian families.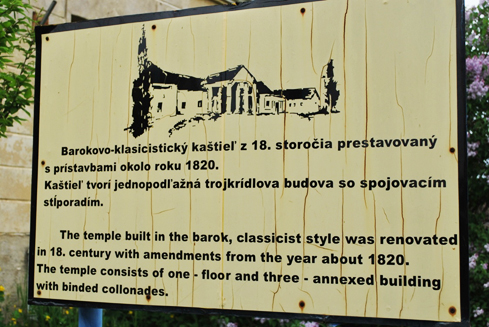 The right wing of the mason is used for an exposition of exhibits.
The first exposition – Return into childhood is a display of old toys. There are old dolls among them – even sewn, cars, prams, marionette shows, sleighs, three – wheelers and trains. Lanscape with miniature railways and small houses have been fitted in the middle of the room  Due to general elections the railways along with small trains were temporarily placed into the showcases. In case of more significant event some exclusive exhibits, such as a 100 year old doll, mechanical calculator etc., can be on loan. In individual showcases visitors can see historic photographs of the mansion and  Margita – Ilona swimming pool. A small part of the exhibition is being installed dedicated to our native Imrich Karvaš, who was the first Governor of the National Bank of Slovakia.
The second exposition  –  Return to the  past.
There are collected antique furnishings as well as household accessories from the past displayed in 2 rooms. There are also various working tools – a butter churn, a spinning –wheel, looms, wooden washer and flails. Period costumes are also a part of the exhibition.
Expositions do not have an exact opening hours. Both expositions can be visited upon preliminary agreement of date.
It is necessary to make an agreement on show in advance.
In case of interest in visiting the mansion in Kalinčiakovo you can be notified of telephone contacts by Levice Information Agency (Levická Informačná Agentúra).
 Address: Levice – town section Kalinčiakovo, 93401